WHAT A LOAD OF HORSE SHIT.
Now I like Wonder Woman. I like her a lot. And I agree that if both she and Superman lost their powers, she'd be a better crime fighter, because she's one of the greatest warriors in the world.
But this kind of argument saying that Superman is nothing but his powers is dumb. The people who lob these kinds of criticisms at Superman know absolutely nothing about Superman.
Remember the episode of Justice League, "Hereafter Part 2"? Remember how Superman got transported to the future, when the Earth was a post-apocalyptic wasteland with a red sun, and he lost all his powers? Remember how he proceeded to become the almighty survivalist, forging a sword out of the few supplies he had and becoming the leader of a pack of mutant wolves? I sure fucking do.
Or how about in Superman: Up, Up, and Away, where he lost his powers for a whole year and still managed to take Lex Luthor down with his journalism abilities as Clark Kent?
I can't find any good scans of the comic, but trust me, this is an awesome story in which Clark Kent does not have his superpowers for the first half of it, and kicks ass.
Oh, and don't get me started on leadership skills. You want Superman as a leader? Read Emperor Joker: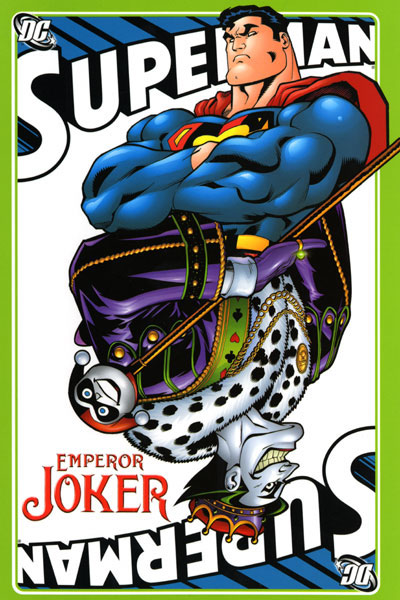 In Emperor Joker, the Joker becomes God and remakes the universe in his own twisted image. Heroes are villains and villains are heroes. Bizarro protects Metropolis every night from the Arkham Asylum escapee Superman, a dangerous criminal who killed Lex Luthor. Lois Lane is a cruel, bald businesswoman armed to the teeth, Superboy is stuck working in a burger joint, and the Justice League are reduced to shallow parodies of themselves, with Wonder Woman being a submissive housewife, Plastic Man an identity thief, and the Flash into the Flab, the "Fastest Fat Man Alive".
Superman is the only one who realizes something is wrong. His sheer force of will and ability to lead others causes reality to start shifting back to normal, rallying the troops against the fiendish god king Joker, who is planning on destroying the universe. Joker tries to break everybody, tormenting all of Superman's friends and loved ones, even mentally breaking Batman, but no matter what he does to Superman, Superman will not yield, because even against a vastly more powerful opponent, Superman will always make sure that good triumphs over evil.
And Joker is more powerful. Superman can't beat him with his powers, so Superman has to beat Joker by exploiting his own mental weaknesses and obsession with Batman, even when Batman himself has already lost.
TL;DR: SUPERMAN DEFEATS A PSYCHOTIC GOD WHO COMPLETELY OUTCLASSES HIM IN USING NOTHING BUT HIS WITS.
People who think Superman is useless without his powers don't understand something. Clark Kent is naturally really strong. He's a big, buff guy. He's also been trained in more simple combat by his allies, and while I doubt he'd do the whole powerless crime fighter thing, Superman is a lot more than his superhuman abilities. Because more than he's strong, Superman is also smart. For all the "Super", the real remarkable aspect of Superman, the reason I love the character, is the "Man". Superman is, in philosophy and personality, what ALL of us should aspire to be.