DCivilization
So I really enjoy playing Civiilzation V. I'd enjoy it even more if it STOPPED FUCKING CRASHING IN TURN 7 EVER SINCE THE GODDAMN EXPANSION PACK UPDATE. So, in lieu of actually playing Civilization, I took a look at the Steam Workshop stuff in it. And I got to thinking, could people mod in whole new civilizations? Sure, Genghis Khan, Kamehameha, and Ghandi are all fun to nuke people with, but could I be added to the game?
With a leader this glorious, Manifest Destiny suddenly becomes all but a certainty.
But, better than that, what if we could mod civilizations led by superheroes into the game? Yeah, now you see where I'm going with this. Let's play Sid Meier's Civilization: Justice League Edition!
What I'm doing is picking a civilization and a hero to lead it. Each hero will get one of those pompous intros all of the historical leaders get in the game, as well as two unique units and a special ability. Just for fun, I'm also adding one World Wonder per character, though I don't think I'll be able to come up with each one's effect. Obviously, I'm not a game designer, so these probably aren't going to be well balanced, so them's the breaks.
Gotham City:
Leader: Batman
"All are wary of you, Batman, oh great Dark Knight. You are the world's greatest detective, a master of both your own mind and body. Tragedy befell you when you were young, but you have used that tragedy to rise and become one of the human race's greatest assets. Able to go toe-to-toe with gods and monsters, you are the pinnacle of what humanity can achieve.
You are vengeance. You are the night. You are the one who must lead Gotham City to glory. She is your city, your protectorate. Will you protect your fellow Gothamites from the madness that threatens them? Will you and your vast network of allies show the world what the human race is capable of? Will you build a civilization to stand the test of time?"
Unique Units:
-Young Ward (Replaces Infantry): Gains attack bonuses against all land units, even superior ones.
-Batmobile (Replaces Modern Armor): Same as modern armor, but can move 8 spaces in one turn instead of 5.
Ability: WayneTech R&D
-Destroyed units return a gain in science.
World Wonder: The Bat-Signal
Metropolis:
Leader: Superman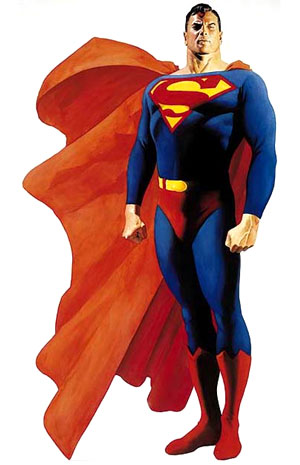 "Glory to the Superman, visitor from beyond the stars. The last son of a dying world, you derive great power from our yellow sun, and generously use this power to help those who cannot help themselves. The most powerful man in the world, if not the universe, you have never wanted to rule, but all appreciate your guidance nonetheless.
You are the protector of Metropolis, the greatest city in the world, the pinnacle of humanity's collective achievements. For years, you've kept it safe from decay, but now is time for something different. Will you use your great power to help Metropolis advance even further? Will your standing for truth, justice, and liberty for all lead Metropolis into a new golden age? Will you build a civilization to stand the test of time?"
Unique Units:
-Alien Cousin (Replaces Jet Fighter): Has heavier defense than normal Jet Fighter.
-One-Man Workforce (Replaces Worker): Works faster than normal Workers.
Ability: Super Senses
-All units have increased sight.
World Wonder: The Fortress of Solitude
Themyscira:
Leader: Wonder Woman
"Hail Princess Diana of Themyscira, the Wonder Woman. Oh champion of the noble Amazons, you have left paradise to come to man's world, to save man from all of his evils. You are the champion of women everywhere, a diplomat, a public speaker, a symbol, a hero.
You have fought alongside the rest of the world's champions, fighting for love, equality, and truth. Can you spread these things to man's world? Will you use your power to turn it into a utopia? Will you build a civilization to stand the test of time?"
Unique Units:
-Amazonian Archer (Replaces Archer): A powerful, early game unit. Bonus damage against cities.
-Invisible Jet (Replaces Stealth Bomber): Has increased evasion.
Ability: Island Town: Cities have increased defense against naval attacks.
World Wonder: Clay Woman
Oa:
Leader: Hal Jordan
"Stand attention for Green Lantern 2814, Hal Jordan of Earth. When a dying visitor from another world landed on Earth, he chose you to be his successor as a Green Lantern, intergalactic law-enforcer with great willpower. Through your will and ability to overcome great fear, you've fought and won battles most men would flee from. Time and time again, you've proven yourself in battle, against supervillains, alien warlords, enemy armies, and death itself. You are not just one of Earth's greatest champions, but the universe's.
For a long time you have fought in an army, but now you must lead one. Can you lead the world through its hardships, both in brightest day, and blackest night? Can you use Green Lantern's might to make something lasting? Will you build a civilization to stand the test of time?"
Unique Units:
-Drill Sergeant (Replaces Great General): If sacrificed next to a combat unit, will upgrade that unit instead of building a fortress.
-Honor Guard (Replaces Surface to Air Missiles): Bonus damage against closer enemy units.
Ability: Willpower: Units near-death do extra damage.
World Wonder: Central Power Battery
Atlantis:
Leader: Aquaman
"Hail Arthur Curry, Aquaman, king of Atlantis. Born to an Atlantean mother and a surface-dwelling father, you have had to overcome adversity and discrimination to rise to power as rightful ruler of your underwater society. A mighty ruler, you have always defended your home from those who would wish to bring harm to it, both from outside and inside threats. You have even left your home to help defend the surface world alongside its greatest champions, and taken your place as one of the world's greatest heroes.
Oh noble son of land and sea, it is time for Atlantis to grow. Will you raise your people out of the water to show them what the rest of the world has to offer? Will you show the surface world what Atlantis has to offer? Will you build a civilization to stand the test of time?"
Unique Units:
-Atlantean Worker (Replaces Worker and Work Boat): Can improve tiles on both land and sea.
-Atlantean Sorcerer (Replaces Musketman): Can battle on both land and sea.
Ability: Ocean Masters: All units can traverse water.
World Wonder: I got nothing. Sorry.
These are the ones I can think of. I was going to try something for The Flash and Martian Manhunter, but I'm just kind of tapped out. Maybe another time.